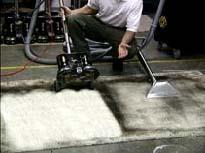 There's plenty to love about wintertime: skiing, sledding, and of course, the holidays. However, increased wet feet and wintery ground conditions can push your carpet to the limit.
Here are some areas that can test your home and you from a professional carpet cleaner in Moorestown, NJ and have a great-looking carpet throughout the holidays.
Snow Stains Can Ruin Your Carpet Appearance
Years ago, snow was white before vehicles made an introduction. These days, it's nearly impossible to walk in clean snow and what hasn't already turned to mush.
Up your street and driveway, your shoes and boots will end up filthy. Now, these dirty feet are going all over your carpet. While you may try to use soapy water to the dirty area, yet you're going to make it wetter.
To get rid of moisture, you can soak it up with a towel, yet you'll still have loose dirt around your home. What you need is a Moorestown professional carpet cleaner who can deal with the stains and excess water in one go.
Watch Your Christmas Tree
A Christmas tree can bring a room together during the holidays. Before you can gather the family for decorating, the tree needs dragging through your home into your living room.
A better solution is wrapping the bottom in plastic until you get it in position. Remove the sheet, and with some luck, you will have a clean tree, and your carpet is safe for the early side of Christmas.
Another issue is where the tree stands. You'll get a dent for sure, yet if there is any moisture, you'll end up with an enormous ring as well.
A professional carpet cleaner can deal with this in no time, yet you need to limit the damage your Christmas tree will cause. Make sure you spread the load area, and there is waterproofing there as well.
Damp Carpets Need a Professional Carpet Cleaner in Moorestown
One major oversight is that snow which ends up in your home doesn't stay as snow. It melts and has to go somewhere.
The build-up of water raises your home's humidity level, and from there, any damp areas are ripe for mold to grow. Mold only needs 48 hours to spread in the right conditions.
Any sign of mold and you need a Moorestown carpet cleaner quickly to kill it with steam and remove all traces before drying your carpet.

Find Your Winter Carpet Cleaner in Moorestown, NJ
If at any point this winter you a professional's help with carpet cleaning or carpet repair, you need the help of a reliable carpet cleaner in your area.
To be certain, Contact Majestic Carpet Cleaning Services here, or you can also use the form below, and a cleaning specialist will be in touch with you shortly. You can also check out our customer reviews from the surrounding areas.

Fill in the form for a speedy response