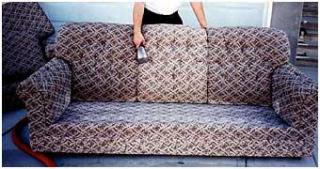 Many new owners who are ready to move into a new home are without any new furniture. To circumvent these problems, people spend time searching for alternatives.
Many used furniture choices are available, all of which may suit your style of living. However, before making the mistake many other homeowners make, it is strongly recommended that you clean up your upholstery, both new and used.
Through the years, dirt, bacteria, and odors can accumulate on fabrics, and by using the finest upholstery cleaning services in Moorestown, NJ, you can do more than eliminate odors, spots and bacteria, you can restore the look of your furniture choice.
Here you can see why it is significantly better by using a professional carpet cleaning company to do upholstery cleaning than by trying to do it yourself.
Disinfect with Moorestown, NJ Upholstery Cleaning
The first thing to do is to sanitize your new furniture. The simplest methods can be using disinfecting cloths, aerosol sprays or the traditional way of wiping your furniture with a mixture of vinegar and water.
Although you need to test in one place, the only problem may be leaving the fabrics too damp. When this happens, you may have more issues with mold sneaking in.
Contact your local Moorestown, NJ steam cleaning company; they will disinfect your upholstery fabric to eliminate unhealthy bacteria and leave your furniture in an almost dry state.
Using Steam Cleaning to Eliminate Odors
After removing the bacteria and dirt, the time has come to eliminate the bad odors. Odors are usually caused by moisture trapped in furniture fabrics. Therefore, it is not a good idea to disinfect your furniture by hand. After some time, the odor becomes stagnant and is harder to remove.
The use of fabric deodorants only disguises the smell, and when they subside, the smell is still there. After the disinfection, you can try to clean the fabric with warm water and vinegar or baking powder. These may remove an odor, but it can be challenging to have the entire material look the same color if you do it by hand.
A professional upholstery cleaner uses machines specially designed for this purpose. Any compounds that cause the smell are broken down and washed away.
Finding the Best Moorestown, NJ Upholstery Cleaning Services for Used Furniture
There is nothing wrong with using used furniture, and after hiring a local upholstery cleaning company, no one will be able to tell how old your furniture is.
To make sure that there are no odors and bacteria in your new home, contact Majestic Carpet Cleaning Services.
You can also use the form below, and a cleaning specialist will be in touch with you shortly. You can also check out our customer reviews from the surrounding areas.

Fill in for a quick response