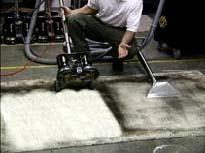 Spring is here, so if you're like most homeowners, then you have already started on your spring-cleaning ritual. Nothing beats a fresh and well-organized home, so adding carpet cleaning to the list of cleaning tasks is essential.
The carpet is in permanent connection with your feet, your shoes, and your pets. Dirt becomes more embedded in the fibers after winter. Spring is the best time to give your carpet the heavy-duty cleaning it needs to contribute to a healthier and fresher home. Before you call the carpet-cleaning professionals in Mullica Hill, NJ, here is a little more information on the subject.
Regular Vacuuming of Carpets
Proper vacuuming is the most accessible and most efficient means of keeping your carpet clean while having at the same time a positive impact on the health condition of your home and the air you breathe.
While spring-cleaning, vacuum the carpet in your home, moving the furnishings as much as you can to vacuum beneath it.
Be sure to clean areas that you may have missed in your regular cleanings throughout most of the past few months.
Regular Hire of a Carpet Cleaning Firm in Mullica Hill, NJ
Professional carpet cleaners will keep your carpets cleaner, fresher, and better looking.
Without professional carpet cleaners cleaning your carpets at least once a year, you discover that your carpet not only will change its appearance because of wear and tear, but it will create odors throughout your home.
After a professional carpet cleaning company cleans your carpets, you'll want to consider selecting the correct means to manage the freshness and appearance of your carpets. Avoid getting your carpets dirty by throwing area rugs near doorways and hallways, dumping your shoes outside the house, and vacuuming or treating stains promptly.
Get the Ball Rolling with Mullica Hill, NJ Carpet Cleaning Professionals
If you are searching for a carpet cleaning company in and around the local area, contact Majestic Carpet Cleaning Services.
Through professional carpet cleaning, upholstery cleaning, and tile and grout cleaning, we guarantee you to have a great spring-cleaning experience.
Contact Majestic Carpet Cleaning Services for an estimate, or fill in the quick form below for one of the cleaning support crew to be in touch. Your home can be fresh, and inviting without you having to get stuck into the hard work.

Fill in the form for a speedy response